Laboratory Manual for Clinical Veterinary Technology
Oreta Marie Samples, BS, RVT, MPH, DHSc
Scott Echols, DVM, Dipl ABVP
Published 2022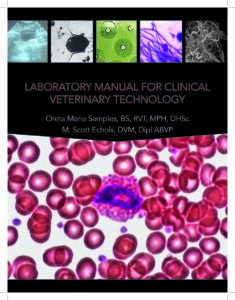 Dec, 2022
'This is a 235-page paperback, spiral bound manual for vet tech students.  The manual is organized in a very logical manner and divided into clear chapters on all topics a competent vet tech should be proficient in.  The manual covers domestic species (large and small) as well as some non-domestic species. Topics covered are those that apply to any species: Lab safety and zoonoses, hematology, blood smears, antigen-antibody patient side assays coagulation, coprological exam urinalysis, cytology (impression smear, fine needle aspirates, swabs) as well as large animal specific (California mastitis test and rumen fluid evaluation) and includes comments in the general sections pertinent to non-traditional species.  Important procedures include necropsy, sample collection and shipping. The chapter on microbiology covers the basics that can be done in-house.   Reproduction (semen analysis and vaginal cytology) is not covered.
Each chapter discusses the topic, provides figures for how to perform the procedure as well as figures to illustrate what the students are looking for and how to identify these under the microscope.  The tables in each chapter are particularly useful to summarize for example the different kind of tubes for blood collection or different kinds of microbiology media: what they contain and what they are used for.
Although many clinics send out cytology to commercial laboratories, a technician who is able to properly collect and prepare and then evaluate cytology is worth a lot, because patients can be treated immediately based on preliminary assessments and is in a position to provide added value services to clients.
The manual references the AVMA CVTEA and each lab is set up to meet/ teach specific skills from the skill list. One really nice feature for the instructors is that the materials and supplies needed are listed so it is easy to prepare for the lab.   An additional nice feature is that the size of the manual as well as the font are easy to read and manage while in the lab. '
Anneke Moresco, DVM, PhD
Veterinary Technology Program Director
Western Colorado Community College
Grand Junction, CO 81505
To order, please click here