Description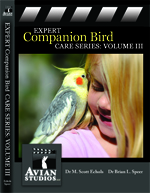 Volume 3 of the Expert Companion Bird Care Series is now available!
M. Scott Echols, DVM, Diplomate ABVP (Avian) and Brian L Speer, DVM, Diplomate ABVP (Avian), ECZM (Avian) have teamed up with leading experts to bring you the first comprehensive bird care series taught by avian veterinarians and bird care specialists.
This third volume covers pet store sources of birds and supplies, grooming and DNA sexing.
41 Minutes, DVD- plays all regions
Shipping is with USPS First Class mail. If you would like Express or Priority mail shipping please let us know.
In Volume I:
CH 1. Specialty Bird Pet Stores
Michelle Beckley
CH 2. Obtaining Birds from Corporate Pet Stores
Tom Edling, DVM, MSpVM
CH 3. Grooming Pet Birds
Laurie Hess, DVM, Dipl ABVP (Avian)
CH 4. DNA Sexing and Identification
Joy Halverson, DVM, MPVM