Volume 1 of the Expert Companion Bird Care Series covers a wide range of topics from identifying commonly kept parrot species, housing and nutrition, to tell tale signs of illness in birds and how to select a veterinarian.
M. Scott Echols, DVM, Diplomate ABVP (Avian) and Brian L Speer, DVM, Diplomate ABVP (Avian), ECZM (Avian) have teamed up with leading experts to bring you the first comprehensive bird care series taught by avian veterinarians and bird care specialists.
We conceived of the series as a reliable resource on avian care that veterinarians, pet stores and websites can offer to their bird-owning clients. The Expert Companion Bird Care Series presents comprehensive bird care information from several world-class avian veterinarians, teachers, aviculturists, enthusiasts and pet store owners.
88 Minutes, DVD- plays all regions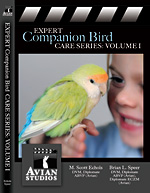 [add_to_cart=1436]
Shipping is with USPS First Class mail. If you would like Express or Priority mail shipping please let us know.
In Volume I:
CH 1. How to Identify Commonly Kept Parrot Species
Jeleen Briscoe, DVM, Dipl ABVP (Avian)
CH 2. Housing Your Pet Bird
Greg Burkett, DVM, Dipl ABVP (Avian)
CH 3. Basic Avian Nutrition
Susan Orosz, DVM, PhD, Dipl ABVP (Avian), Dipl ECZM (Avian)
CH 4. Household Dangers and Toxins
Laura Wade, DVM, Dipl ABVP (Avian)
CH 5. Identifying When Your Bird is Sick
Paul Gibbons, DVM, Dipl ABVP (Avian)
CH 6. How to Select an Avian Veterinarian
Kemba Marshall, DVM, Dipl ABVP (Avian)